Presentations
"Sattler's talk was one of the most engaging and memorable events we have hosted."
– Western Libraries
David is available for presentations to your community organization, group or bookstore. Please contact us at david_sattler@msn.com for details about a speaking engagement and to schedule an event.
Presentation: The Miracle of Life at La Jolla Cove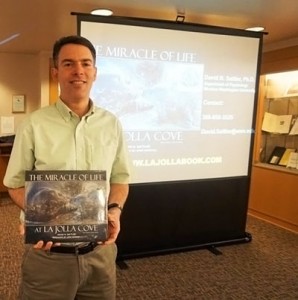 The multi-media presentation The Miracle of Life at La Jolla Cove captivates the audience with spectacular and intimate images of the wildlife that call La Jolla Cove home and the gorgeous coastal landscape meandering along the Pacific Ocean. David discusses the development of the La Jolla Underwater Park (an ecological reserve) and past threats from which marine species are recovering and current threats that can comprise the health of the marine environment. An experienced and dynamic speaker, David Sattler regularly presents engaging presentations to community and professional organizations and academic institutions on a variety of topics. Examples include United Nations Climate Changes Conferences, Sierra Club, San Diego Coastkeeper, La Jolla Riford Library, Village Books, Western Libraries, Bellingham Photography Club, Rotary Club, National Science Foundation, U.S. Customs and Border Protection, Seattle Business Forum, Washington State Senate Higher Education Committee, First Congressional Church, youth groups, and and high schools. He received the Paul J. Olscamp Research Award, Philip E. Sharpe Community Service Award, and the Carl H. Simpson Bridging Award from Western Washington University, and the Action Teaching Award from Social Psychology Network. He is an international board member for OHAI Tonga, a nongovernmental organization in Tonga devoted to addressing climate change.