Reviews
Winner of Two National Book Awards!
Silver Award, Independent Publisher Book Award
Silver Award, Feathered Quill Book Award

The Miracle of Life at La Jolla Cove is receiving rave reviews!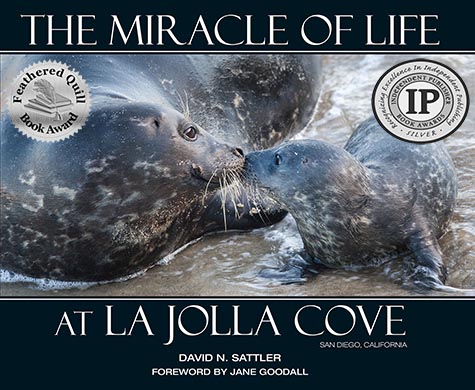 "David Sattler has the eye of an artist and the voice of the poet, and the combination of these gifts with the extraordinary beauty of La Jolla Cove has resulted in this magnificent and memorable book..."
—Jane Goodall, Ph.D., DBE; Founder, The Jane Goodall Institute & United Nations Messenger of Peace
"This extraordinary collection celebrates life at La Jolla Cove—a place that attracts the young of more than one species, and so offers us a chance to work out, in one beautiful place, some of the planet's tensions and harmonies." 
—Bill McKibben, Author, Eaarth; Founder, 350.org
"David Sattler's magnificent anthology of photographs and narratives celebrates the glorious landscapes and wildlife at our La Jolla Cove. The exquisite photos with texture and depth, palettes of colors, and soulful expressions of nature give witness to the miracle of life."
—Peter Ballantyne, Executive Director, Paralyzed Veterans of America, Cal-Diego Chapter
"David Sattler's perspective and glorious photographs of La Jolla Cove illustrate an essential human dilemma. Our primal attraction to extraordinary natural beauty often threatens to overwhelm the very ecosystems that create these special places. This dilemma is one that every community member, whether developer or environmentalist, must consider."
—Dr. Elliott Hirschman, President, San Diego State University
"This book should grace the libraries of sea goers and land dwellers alike! David Sattler weaves together spectacular photographs and lively text that convey the heart, spirit, and vulnerability of our marine environment. Its provocative themes will engage readers and surely lead to important talking points."
—Dr. Iris Engstrand, Professor, University of San Diego; Former Trustee, San Diego Natural History Museum
"This spectacular volume, by an artist who has a genuine passion for wildlife and the place they call home, has some of the most beautiful images of La Jolla Cove I have seen. A stunning work!"
—Dr. Ed Henry, Board of Directors, San Diego Audubon Society
"David Sattler's new book combines gorgeous photography with informative and heartfelt commentary. More than a celebration of the wonders of La Jolla Cove, it's a call to action for anyone who cares about California's threatened marine ecosystem."
—Pete Stauffer, Ocean Program Manager, Surfrider Foundation
"The grandeur of the La Jolla coastline this book so beautifully captures underscores the need for each of us to take care of our planet. With expanding worldwide population and climate change, the degradation of virtually everything nature has given us on which to survive and thrive, we hold, like this book, in our hands. Let's honor ourselves with the conceit of believing we can save the future for others who have yet to be born."
—Tom Skerritt, Emmy-Award-winning actor; Co-Founder, The Film School
"As a diver, I have seen first-hand the wonders of aquatic life and the burden that we have put on our fragile ecosystem. It is time to respect, protect, and celebrate our marine environment at La Jolla Cove."
—Ed Begley, Jr., Actor and Environmentalist
"This gem of a book is a fascinating and intimate portrayal of wildlife that live at La Jolla Cove. David Sattler shows what our wonderful birds and sea life are up to each day and reveals what we have in common with them: family, devotion, caring, survival."
—TJ Berman, Science Educator, San Diego High School
"This exquisite book has deepened my sense of wonder and appreciation for our marine ecosystem and coastal landscapes. The panoply of photographs that beautifully capture light and form, and the poetic, awakening narratives are simply exhilarating!"
—Carol S. Witherell, Professor Emerita, Lewis & Clark College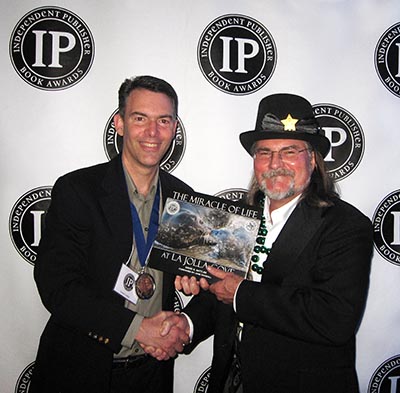 Dr. David Sattler (left) receives the Silver Award from Jim Barnes, Award Director of the Independent Publisher Book Award. Nearly 5,000 books competed in the award program, which recognizes excellence in independent publishing.