Order Book
HOLIDAY SALE! ENJOY A 55% DISCOUNT AND RECEIVE AUTOGRAPHED BOOK (while supplies last)
Now only $19.95! (You save $25 off the $44.95 list price)
"Add to cart" takes you to our secure PayPal order page.
DISCOUNT PRICING FOR CLIENT APPRECIATION GIFTS AND CORPORATE GIFTS (6+ books)
Please send an email to royaltern@outlook.com for pricing.
__________________________________
WHOLESALE ORDERS
Please send your order via phone, fax, or email to our fulfillment house:
Jerome M. Sattler, Publisher, Inc.
Phone: 619-460-3667
Fax: 619-460-2489
Email: sattlerpublisher@sbcglobal.net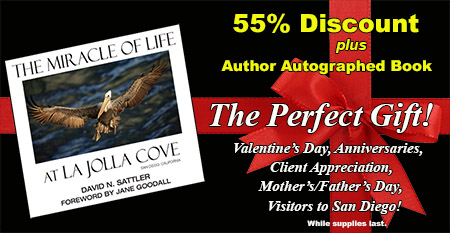 "This exquisite book has deepened my sense of wonder and appreciation for our marine ecosystem and coastal landscapes. The panoply of photographs that beautifully capture light and form, and the poetic, awakening narratives are simply exhilarating!"
—Carol S. Witherell, Professor Emerita, Lewis & Clark College